DEFINING PORCELAIN DENTAL VENEERS
Dental veneers are thin artificial coverings placed on a chipped, broken, stained, misshapen or otherwise imperfect teeth to improve the overall look of your smile.
The use of porcelain combines the benefits of dental veneers with the beauty of porcelain to closely match the look and feel of natural teeth.
Veneers Before and After Photos
BENEFITS OF DENTAL VENEERS
VERSATILITY Maybe one of the most remarkable aspects of dental veneers is how versatile they are. Dr. Ortega, is able to utilize porcelain veneers to correct many different smile aesthetic concerns. Porcelain veneers can turn a less than ideal smile into a bright, straight and beautifully natural looking smile.
NATURAL LOOKING Porcelain offers a wonderfully natural looking solution because of its "translucent" properties—allowing light to enter the material and imitate the shine and translucency of natural teeth.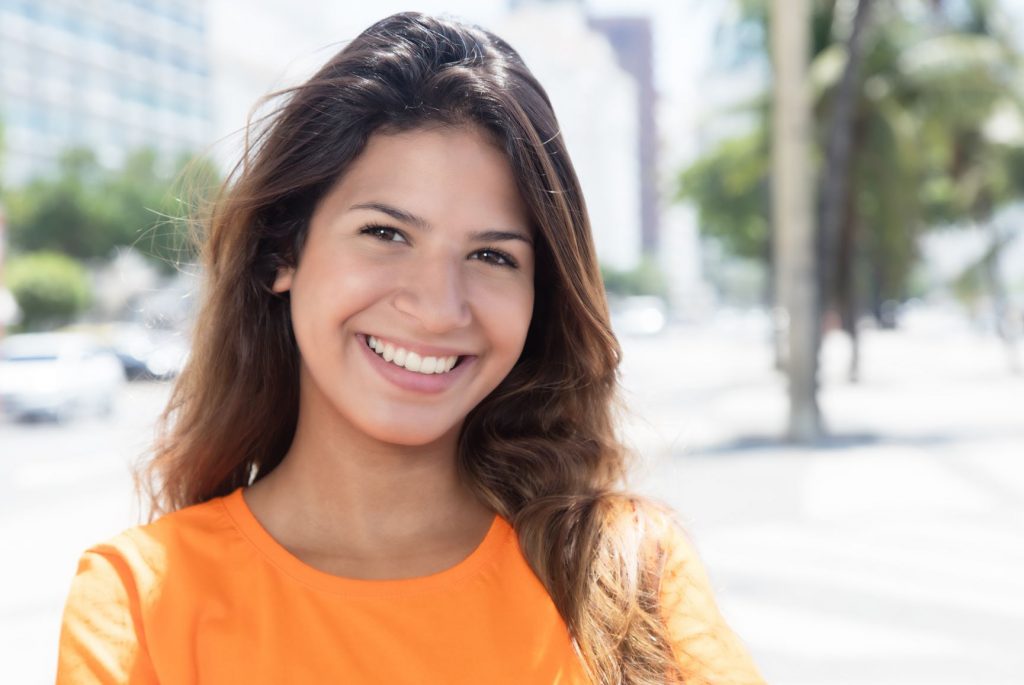 STAIN RESISTANT Just like mom's fine porcelain china, porcelain dental veneers resist stains and always clean up nicely when cared for with a proper dental hygiene routine. Even after years of normal eating and drinking, a porcelain tooth veneer resists discoloration or yellowing.
BLEND IN Dr. Ortega makes sure that your porcelain veneers match your smile in regards to shape, size, fit and coloration. In other words, people won't perceive an obvious difference in your smile between your natural teeth and your new porcelain dental veneers.
GENTLE PROCEDURE Because placing a tooth veneer is so non-invasive, the treatment is relatively simple, doesn't require significant prep work in most cases and is very comfortable.
How The Porcelain Tooth Veneer Procedure Works
Outlined below is an explanation of steps involved in treatment for teeth veneers:
Consultation Your initial appointment with downtown San Diego dentist Dr. Marcos Ortega will consist of diagnosis, discussion of the your goals, and treatment planning. Dr. Ortega will examine your teeth to ensure that you're a suitable candidate for the procedure and may take x-rays and impressions of your teeth or mouth.
Tooth Preparation To prepare your tooth for a veneer approximately one-half millimeter (roughly the thickness of the veneer that will be applied) of your tooth's enamel will be removed. An impression of your tooth will then be taken and sent to a laboratory, where your new veneer will be crafted and later sent to Dr. Ortega.
Veneer Bonding Before permanently bonding the veneer to your tooth, Dr. Ortega will check for proper fit and color, making adjustments until the veneer is perfected. Once adjusted to perfection, the veneer is fitted permanently using a dental cement. A light beam is utilized to "activate" the cement so that it hardens quickly.
"I have been a patient of Dr. Ortega's for well over 20 years! He is the best! I have had veneers installed on my front teeth and WOW! What a difference. He is definitely a craftsman and an artist. He is the dentist that other dentists go to when they need dental work. On a scale of 1-10, I give him a 12!!!!!"
– Alan F
AM I A PORCELAIN DENTAL
VENEER

CANDIDATE?

One of the many benefits of porcelain veneers is that the procedure covers such a wide array of cosmetic dental issues and is so non-invasive that most of our downtown San Diego patients are viable candidates. Dr. Marcos Ortega has vast experience in designing and applying great looking porcelain veneers and can help you improve your smile with an individual tooth veneer or create the smile of your dreams with a multi dental veneers treatment. In terms of cost, dental veneers vary based on how many you are receiving.



Some of Dr. Ortega's Before and After Porcelain Veneers Cases:






Get Porcelain Veneers in Hillcrest San Diego
If you think porcelain veneers might be a great solution for you, call the cosmetic dentistry experts at our downtown San Diego office and schedule a visit today or shoot us a quick email using the contact form below. We offer a free cosmetic consultation ($175 value) to our patients!