QUALITY COSMETIC DENTISTRY IN THE HEART OF SAN DIEGO
Your smile plays a prominent role in people's first impression of you. What do you want it to say? San Diego cosmetic dentist, Dr. Marcos Ortega, has the training, experience and facilities to help you tell your story exactly as would like to.
We make dream smiles become reality all the time and would love to give you the same opportunity. Our convenient and "full service" San Diego location is ideal for the people in the area, so schedule a visit with our cosmetic dentist to see what we can do for you before you make an unnecessary trek up to Beverly Hills.
BENEFITS OF COSMETIC DENTISTRY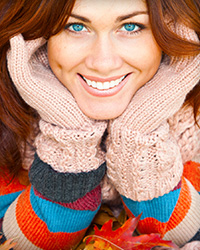 This is not made to be an exhaustive list of cosmetic dentistry benefits but do represent common benefits our patients experience from cosmetic dental treatments:
Remove cause of embarrassment when smiling
Increase your self-confidence
Improve the way you look (increased attractiveness)
May better work opportunities
Make more positive first impressions
GET THE PERFECT SMILE
Cosmetic dentistry, also known as aesthetic dentistry, embraces those dental treatments that improve the aesthetics of your smile. Cosmetic dentist, Dr. Marcos Ortega, offers the majority of cosmetic dental options available to San Diego area patients. Some of the most popular cosmetic dentistry procedures include:
INVISALIGN INVISIBLE BRACES | Invisalign Invisible brace are one of the most popular cosmetic dentistry services we offer. Our patients love the convenience, effectiveness and confidence associated with the Invisalign treatment. Learn more about Invisalign
TOOTH-COLORED FILLINGS | Replace old metal amalgam fillings with tooth-colored composites to improve the look of your smile (instead of dark metal-colored fillings) and also the health of your smile (amalgam fillings have been linked to health issues by many).
DENTAL VENEERS | Cracked, chipped or worn teeth can be restored using thin, porcelain or composite veneers that cover the damaged, misshapen or unsightly teeth to make them look beautiful and natural.
TEETH WHITENING | Just as the name implies, cosmetic dentist Dr. Ortega, can brighten and whiten your smile in no time.
DENTAL IMPLANTS | Dental implants are titanium alloy posts that replace your natural tooth root and on which a dental crown or denture is placed. People are raving about dental implants.
Call Marcos Ortega DDS in San Diego to Discuss Aesthetic Dentistry Options
Call today to schedule a visit and find out what other cosmetic dentistry treatments we offer. Cosmetic dentist Dr. Marcos Ortega can help you find the best aesthetic dentistry solution to give you a stunning smile you've dreamed of. We serve patients all around San Diego, Hillcrest, and Mission Hills.