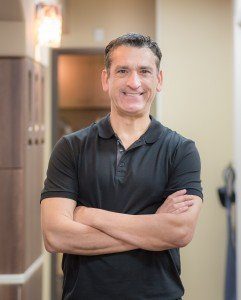 Are you searching for the perfect downtown San Diego Dentist? Welcome to Marcos Ortega, DDS! We are passionate about providing patients with high-comfort dental treatments and unparalleled customer care.
If you want to discover your healthiest and most beautiful smile, it's time to schedule a consultation with an experienced dentist! San Diego, CA, residents don't have to go far to find the ideal dental experience. You can find Dr. Ortega's dental practice in Hillcrest, near Park West, Mission Hills, and Middletown.



"I love Dr. Ortega's office and have been going there since u moved to San Diego in 2013. The office is top notch clean, the staff is incredibly friendly, and the doc is really knowledgeable. I also love the heated massage chairs."
– Kelly V
Dentist in Downtown San Diego
Dr. Marcos Ortega incorporates the latest technologies and techniques in the fields of restorative, cosmetic, and general dentistry. You can learn about a few of the services we offer by reading on below. We hope we hear from you soon! We can't wait to warmly welcome you into our office and give you the stunning smile that you have always wanted.
---

COSMETIC DENTISTRY | Come enjoy a day at our dental spa while you achieve a superstar smile. Our cosmetic dentist in downtown San Diego, CA, can answer all of your questions about one-hour whitening, porcelain veneers, or Invisalign orthodontics.
>> Learn more about cosmetic dentistry

SEDATION DENTISTRY | Have you been disappointed or frightened by previous dental experiences? You need a conversation with a qualified sedation dentist. San Diego, CA, patients can find help at our office, where we can eliminate your stress and anxiety and provide you with the gentle dental care you need.
>> Learn more about sedation dentistry

GENERAL DENTISTRY | We offer all kinds of dental services, from teeth cleanings to tooth replacement, in one convenient location! Whatever you dental needs may be, you can call on San Diego dentist, Dr. Ortega, for personalized care.
>> Learn more about general dentistry

EMERGENCY DENTISTRY | Unfortunately, accidents happen. There's no way of predicting when dental trauma or toothache might impact your day. You'll be prepared for any dental emergency when you have established trust with an experienced dentist.
>> Learn more about emergency dentistry
MARCOS ORTEGA DDS
306 Walnut Ave Ste 25
San Diego CA, 92103
PHONE: 619-295-4545
FAX: 619-295-6575
EMAIL: CONTACT FORM
We hope that you will turn to our dentist in San Diego for your cosmetic, general, and sedation dentistry needs. Dr. Ortega not only serves patients from Hillcrest, Park West, Mission Hills, and Middletown, but from all around San Diego as well. Click here to schedule a visit today to learn more about transforming your smile in San Diego!