MODERN DENTURES
Dentures are artificial teeth mounted in an artificial gum that is temporarily affixed to the natural gum of someone who has had their teeth removed. You may have seen dentures soaking in a cup overnight when visiting family or friends before.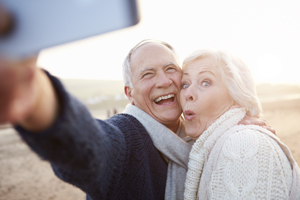 BENEFITS OF MODERN DENTURES
Traditional dentures were limited in quality and craftsmanship and often led to embarrassing or inconvenient moments. Dentures today are made of more durable materials that enable the wearer to do most things that someone can do with natural teeth. Not only are modern denture materials stronger and more durable, they can be amazingly natural looking. The denture materials can even replicate the transparent sheen you seen in the tooth enamel of natural teeth.
WHAT ARE IMPLANT-SUPPORTED DENTURES?
Implant-supported dentures are very similar to normal dentures in nearly every feature except one. Implant-supported dentures are affixed to dental implants that have been placed instead of your natural tooth roots. Though there is a little more involved in the implant-supported denture procedure, many opt for this treatment to claim its benefits.
BENEFITS OF IMPLANT-SUPPORTED DENTURES
Hillcrest downtown San Diego dentist, Dr. Marcos Ortega, has had fantastic results with implant-supported dentures—not to mention a long list of thrilled patients.
Because implant-supported dentures are permanently attached to the dental implants placed in your jaw, you don't have to worry about embarrassment from dentures falling out.
Implant-supported dentures eliminate the need to remove your dentures for cleaning every night.
Dental implants can also slow bone loss that occurs when natural tooth roots are removed from the gum and lessen the opportunity for "saggy" face associated with dentures.
With implant-supported dentures you can eat what you want – so go ahead and grab that apple you've been craving.
And, of course, they are also BEAUTIFUL! You can flash that beautiful smile around all you want because implant-supported dentures won't get tired.
The bottom line is implant-supported dentures can help to preserve your youth and give you a better quality of life.
Dentures In Hillcrest San Diego
Call San Diego dentist Dr. Marcos Ortega, today to schedule a consultation and see if dentures are right for you. You can also contact us using the form below. Dr. Ortega has been helping patients in Hillcrest – downtown San Diego restore their tooth appearance and functionality with his denture expertise!