Many people want straighter teeth, but aren't necessarily interested in traditional braces. That's where Invisalign comes in. You might be surprised to discover that the Invisalign process is very simple.
Invisalign clear braces are made by taking impressions, or casts, of your teeth and mouth. These impressions are then sent to a lab where a set of plastic braces designed to straighten and align your teeth are created.
When a brace is worn over the teeth, it exerts pressure on specific teeth to fix bad bites. This pressure slowly straightens teeth by moving them into a new alignment. In this way, Invisalign works the same way as traditional braces.

Invisalign Special
$3900 Invisalign Go
Call Us: 619-295-4545
OR
WHY YOU SHOULD GET INVISALIGN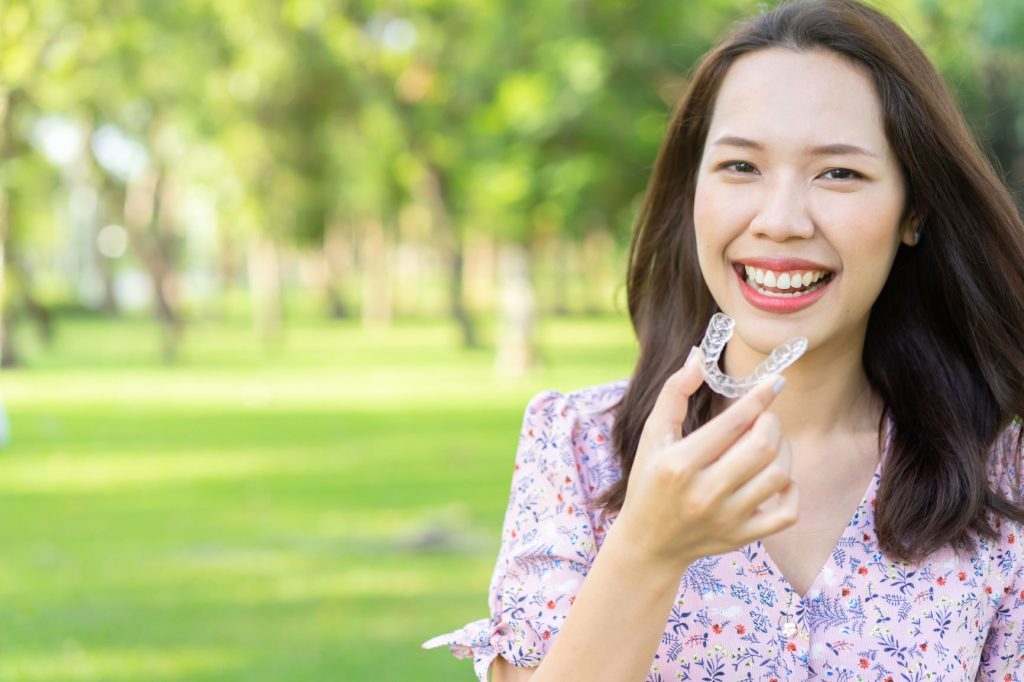 The Invisalign clear braces system is designed for people who want straight teeth and a beautiful smile. Perfect for adults and teens alike, clear braces is a great choice for those with an active lifestyle.
Issues That Invisalign Can Help With
Invisalign works well in addressing:
Mildly crooked teeth
Protruding teeth
Malocclusion (bad bite)
Mild overbites
Mild underbites
Large gaps in teeth
Tooth overcrowding
Open bites
Crossbites
Below is a quick comparison chart showing the similarities and differences between removable Invisalign braces and non-removable, traditional braces.

| | | | |
| --- | --- | --- | --- |
| ISSUE | Invisalign | Traditional Braces | Lingual Braces |
| Effectively treats crowding,spacing, crossbite, overbite and underbite | X | X | X |
| Effectively treats crowding,spacing, crossbite, overbite and underbite | X | X | X |
| Straightens your teeth | X | X | X |
| Allows you to eat whatever you want | X | | |
| Removable | X | | |
| Virtually invisible | X | | X |
| Allows you to brush and floss normally | X | | |
| Consists of smooth plastic | X | | |
| Fewer dentist visits | X | | |
| Invisalign Teen: Up to 6 free replacement braces | X | | |
| Reduces or Eliminates gum and mouth irritation | X | | |
Invisalign Special
$3900 Invisalign Go
Call Us: 619-295-4545
OR
FEEL YOUR CLEAR BRACES GIVING YOU STRAIGHT TEETH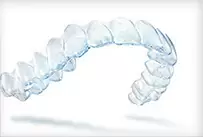 When you begin wearing an Invisalign aligner, it won't feel as if it fits right. It might feel too tight, a little snug, or hard to get in or take out.
The reason it feels this way is that the aligner is not shaped to fit your teeth as they are right now. Instead, the aligner is shaped to fit the alignment that your teeth need to have at the end of a two week period when you are finished wearing the aligner.
Each aligner is designed specifically for only one step of the treatment. When the aligners are made, they are created on an individual dental cast. The alignment on the single cast represents only one stage in your total treatment to straighten teeth.
Each aligner moves or straightens your teeth slightly. Most Invisalign treatments consist of between 10 and 30 different aligners before all teeth are repositioned and straightened into the smile you're looking for.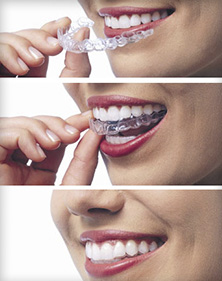 ATTACHMENTS FOR INVISALIGN
Some types of tooth changes cannot be accomplished with clear braces alone. Sometimes the movement can be challenging, like a badly rotated tooth or an extrusion where one tooth is pulling another into place. If this applies to you, don't worry! Invisalign has a solution for difficult teeth.
In order to address these types of problems, your Invisalign dentist will place an attachment on the tooth or teeth in question. By bonding a dot onto certain teeth, the aligner can be anchored into a position that helps to direct the pressure of the aligner more effectively to the tooth being treated.
For more information on how Invisalign clear braces can help straighten teeth and correct bad bites, call us today! Dr. Ortega and his team happily provide their services to patients throughout the downtown San Diego, Hillcrest, and Mission Hills areas!