INVISALIGN TEETH ALIGNERS
Invisalign clear braces are a modern and comfortable alternative for straightening teeth. These invisible braces are a high-tech system of clear aligners that fit snugly over your teeth to create pressure that will gently reposition your teeth over a period of time.

BENEFITS OF INVISALIGN
INVISALIGN WORKS! | The purpose of braces is to straighten teeth, right? Invisalign does exactly that. Invisalign is not a gimmick. The Invisalign treatment truly aligns teeth to create an ideal smile.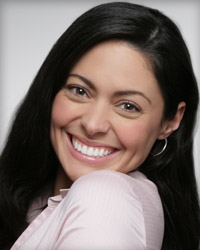 BETTER ORAL HYGIENE | No pesky special flosses or constant teeth brushes for you. When it's time to eat, simply pop your Invisalign trays out and enjoy eating without having to worry about having a new work of art stuck between your braces. When it is time to brush and floss, you will be able to do it just like you normally would.
INVISIBLE | Our patients LOVE how discreet their Invisalign clear braces are. You don't have to worry about obnoxious wires distracting people when you talk to them, laugh or smile. Invisalign is perfect for teen patients or older adults who worry about how they'd look with traditional braces.
TEETH STRAIGHTENING FAST | Incredibly, the whole Invisalign treatment is usually complete in 6-12 months. That means not only will people hardly recognize you're wearing clear braces, you will only have to wear them for a brief period of time as well. Score.
INVISIBLE BRACES
Say goodbye to ugly wires, painful bands, and brackets. Say farewell to aching gums and mouth sores that result from having a mouth full of metal. Say adios to long and complicated brushing and flossing routines, and uncomfortable visits to the orthodontist.
INVISALIGN VS BRACES
INVISALIGN
With Invisalign, you can expect these benefits:
Braces are clear and nearly invisible.
Invisalign is specifically designed to be smooth and comfortable.
Aligner trays are easily removable.
Invisalign has no food restrictions, meaning you can eat anything you like without worrying.
Few dentist visits required for maintenance.
WIRE BRACES
Traditional braces, while effective, might also mean the following:
Metal in the braces is obvious.
Wires and brackets can poke and irritate gums and cheeks.
Traditional braces are non-removable.
Wire braces come with several food restrictions.
Frequent maintenance visits are required.
STRAIGHT TEETH PROMOTE GOOD ORAL HEALTH
Apart from the direct benefits of using Invisalign braces, you will also benefit from the indirect health benefits of straight teeth. Food and bacteria can easily grow and multiply when teeth are improperly spaced. Swollen, painful gums are often a result of overcrowded teeth or teeth that are spaced too far apart. These symptoms may also be signs of periodontal disease.
When teeth are properly aligned, the gums fit more securely around the teeth, providing a strong defense against bacteria and periodontal disease. Because you can remove Invisalign clear braces to brush and floss, it's much easier to follow through with a proper dental hygiene program. Good hygiene and straight, well-spaced teeth ensure optimal oral health. When you choose Invisalign clear braces, you are also choosing better health.
Invisalign Clear Braces FAQ
How Does Invisalign Work?
The Invisalign clear aligner treatment commences with a visit to San Diego Invisalign dentist Dr. Marcos Ortega. Dr. Ortega will help you determine if Invisalign is the right option for you to straighten teeth. If so, Dr. Ortega and his staff will take impressions of your teeth.
Once your teeth impressions are plugged into the Invisalign software, it will graph out and create a sequential series of clear aligner trays (hence clear braces) that will gradually align your teeth to the desired state as you wear them. The period of time and number of aligners needed to straighten teeth depend on the degree of alignment needed.

Get Invisalign Clear Braces in Hillcrest San Diego
If you're ready to start straightening your teeth, call our office to learn more about how Invisalign clear braces can help, or set up a free consultation at our San Diego office. You can also message us using the contact form below. We look forward to helping you transform your smile!
Some of Dr. Ortega's Before and After Invisalign Cases: