INVISALIGN | STRAIGHTEN TEETH IN SAN DIEGO
You most likely have heard about
Invisalign clear braces
(that's probably why you're reading this!) and want a better understanding of what the Invisalign clear braces treatment is, as well as Invisalign's benefits and how effectively it can straighten
teeth
using its patented clear aligner technology.

How Does the Invisalign Orthodontics Treatment Work?
The Invisalign clear aligner treatment commences with a visit to San Diego Invisalign dentist Dr. Marcos Ortega. Dr. Ortega will help you determine if Invisalign is the right option for you to straighten teeth. If so, Dr. Ortega and his staff will take impressions of your teeth.
Once your teeth impressions are plugged into the Invisalign software, it will graph out and create a sequential series of clear aligner trays (hence clear braces) that will gradually align your teeth to the desired state as you wear them. The period of time and number of aligners needed to straighten teeth depend on the degree of alignment needed.
In terms of cost, Invisalign varies depending on the case. The major determining factors that come into play are the extent of the alignment your teeth require and how many aligners you need throughout the course of treatment.
BENEFITS OF USING INVISALIGN TO STRAIGHTEN TEETH
INVISALIGN WORKS! | The purpose of braces is to straighten teeth, right? Invisalign does exactly that. Invisalign is not a gimmick. The Invisalign treatment truly aligns teeth to create an ideal smile.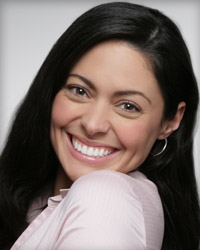 ORAL HYGIENE | No pesky special flosses or constant teeth brushes for you. When it's time to eat, simply pop your Invisalign trays out and enjoy eating without having to worry about having a new work of art stuck between your braces. When it is time to brush and floss, you will be able to do it just like you normally would.
INVISIBLE | Our patients LOVE how discreet their Invisalign clear braces are. You don't have to worry about obnoxious wires distracting people when you talk to them, laugh or smile. Invisalign is perfect for teen patients or older adults who worry about how they'd look with traditional braces.
FAST | Incredibly, the whole Invisalign treatment is usually complete in 6-12 months. That means not only will people hardly recognize you're wearing clear braces, you will only have to wear them for a brief period of time as well. Score.
We have developed a website dedicated to Invisalign clear braces, sandiegoinvisalign.dental, to answer more of your questions about orthodontics, such as:
Get Invisalign Clear Braces near Hillcrest and Mission Hills
If you're ready to start straightening your teeth, call our office to learn more about how Invisalign clear braces can help, or set up a free consultation at our San Diego office. You can also message us using the contact form below. We look forward to helping you transform your smile!
Some of Dr. Ortega's Before and After Invisalign Cases: