IMPLANT DENTISTRY
Dental implants

(A.K.A. tooth implants) are titanium alloy posts that are surgically placed into a patient's jawbone as a replacement for a natural tooth root.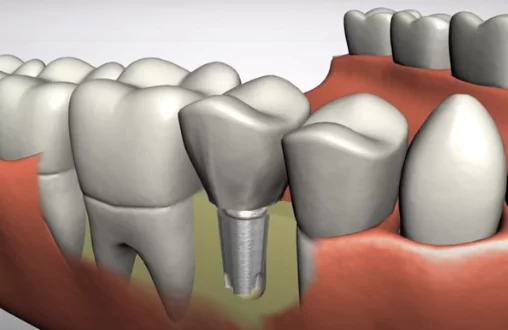 Once Dr. Ortega has completed the implant surgery, the tooth implants will then serve as a strong and durable foundation on which dental crowns, dentures, or other prosthodontic devices can be attached within your

mouth
.
FREE Dental Implant Consultation
$175 Value
Call Us: 619-295-4545
OR
Dental implant dentist Dr. Marcos Ortega utilizes dental implants to replace teeth that have been lost to injury, disease, or decay. Tooth implants with attached crowns are the preferred method for treating tooth loss because they function like natural teeth and assist in preserving jaw structure by preventing atrophy from bone loss.


DENTAL IMPLANT BENEFITS
Our patients love dental implants for a number of reasons, including the fact that they restore the mouth's oral health from disease and damage.
They also facilitate a superior denture solution via implant supported dentures. Some other benefits are:
Durability: Dental implants are a permanent solution to missing teeth. So unlike dentures or bridges that may need to be replaced 2 or 3 times over your lifetime, a dental implant can last a lifetime with the appropriate daily dental hygiene routine.
Oral Health: A tooth implant fuses with the bone. Thus, implant dentistry patients do not experience bone loss in the jaw bones. Bone loss is more common in patients with missing teeth who do not have dental implants.
Anchor:

Implant dentistry

can be used to anchor dental appliances such as dentures or dental bridges. A dental implant secured appliance provides better function and comfort. A dental bridge supported by dental implants also preserves the neighboring teeth rather than having to shape them to allow for a crown.
Natural Appearance: A single tooth implant is capped with a dental crown. If the dental implant is replacing a front tooth, a porcelain crown is normally used to make the tooth look like a natural tooth. Dental implants can also make dentures and dental bridges more secure. By securely and naturally replacing missing teeth, dental implants also restore a natural shape to the face.
Strength: A tooth implant is as strong as a natural tooth. And dental implant secured dentures are similarly strong. With implant

dentistry

, you can smile, speak and eat with ease.
Maintenance: Implant dentistry only requires the same care and dental hygiene routine as natural teeth. And for dental implant secured dentures or bridges, the appliance can be removed for cleaning and easily replaced.
Success Rate: The

tooth implant

procedure has a success rate of around 95%. And with proper care, that success rate will last a lifetime.
The best part is that we perform the whole dental implant treatment in our downtown San Diego office which means no running around town to different dental offices for one treatment.
FREE Dental Implant Consultation
$175 Value
Call Us: 619-295-4545
OR
Restore Your Smile with Dental Implants in Downtown San Diego
If you have missing teeth, dental implants may be the perfect solution for you. To find out if you are a good candidate for implant dentistry, come visit tooth implant dentist Dr. Marcos Ortega for a free tooth implant consultation. To reach our office, simply give us a call or fill out the form below.
RELATED CONTENT