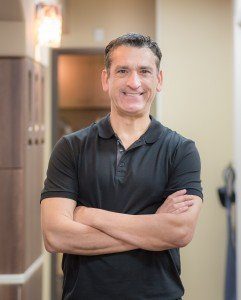 Are you looking for a high-quality, family-friendly, patient-focused dentist? Local Mission Hills dentist, Marcos Ortega, offers excellent comprehensive dental care to patients in and around Mission Hills.
Mission Hills San Diego Dentist
Our dental practice provides patients with exceptional oral care through cosmetic dentistry, sedation dentistry, and emergency dental care, and other procedures that are sure to help
you achieve your best smile.
---

COSMETIC DENTISTRY | Dr. Marcos Ortega wants to help you attain the smile of your dreams. To achieve this, this dentist near Mission Hills offers patients access to quality cosmetic dentistry options such as teeth whitening, straightening with invisible braces, or porcelain veneers. Each of these cosmetic dentistry practices is sure to whiten, straighten, and strengthen your teeth. Many improvements can be made with a few easy trips to our office.
> Learn more about cosmetic dentistry

SEDATION DENTISTRY | Patients coming to see Dr. Ortega for any dental procedure don't have to worry about fear or anxiety getting the better of them. Our office offers sedation dentistry options to any and all of our patients who experience anxiety over visiting the dentist. With these safe and relaxing sedation techniques, you can keep your dental appointments, stay stress-free, and attain your best and brightest smile in no time.
> Learn more about sedation dentistry

EMERGENCY DENTAL CARE | If you or a friend or loved one experiences a dental emergency, don't hesitate to come to our office. It's important to us that you get the oral care you need should an emergency occur. We want to make sure your smile is corrected quickly. Dr. Ortega is a highly skilled dentist with a great amount of experience in taking care of dental emergencies. He handles emergencies ranging from chipped teeth to toothaches, split lips to teeth that have been knocked out. > Learn more about emergency dentistry
Schedule a Dental Appointment with Mission Hills Dentist Dr. Marcos Ortega
If you're searching for a family-friendly, highly-skilled dentist near Mission Hills, Dr. Marcos Ortega is the dentist for you. Take the first step to achieving your best and brightest smile today by 619-295-4545 and setting up an appointment! You can also text us or contact us using the form on this page.
We look forward to helping you with all of your dental needs; from basic maintenance of oral health to achieving the smile you've always wanted!